Athens County, Ohio
History and Genealogy
Welcome to the
" Foothills of the Appalachian Mountains "
A place to read and share memories about the past!
Welcome to Athens County Ohio History and Genealogy! Glad you stopped by. Here you will find Athens county photo's, Athens county history, Athens county genealogies, Athens county message boards, and a place to put your Athens county genealogy so others can find and share info with you. As you move your mouse around this page you will find lots of Athens county webpages I have created over the last eight years for you to click on and spend some time, or if in a hurry use the quick search button below! Hope you find and share info about your Athens county families here! Images are protected with an ohgen.net stamp, if you are interested in a family photo without the stamp it may be available.
Sandra Mitchell-Quinn (your webmaster)
---
Newsworthy!!!
In Memory of Bill Wend, Grand-daughter raises funds for
and
Gary Devol Runs for Cancer Research at Pelotonia
---
Did you know Sarah Jessica Parker,
the actress, was born in Nelsonville, Ohio?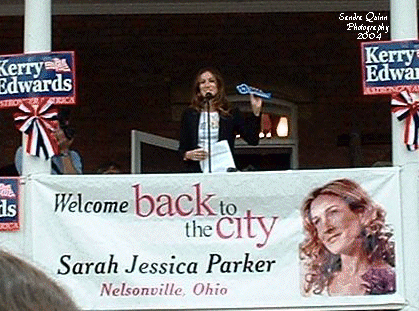 Photo taken by Sandra Mitchell Quinn as Sarah Jessica Parker received the key to the city October 21, 2004 about 5:30 pm on the porch of the historic Dew Hotel on the Victorian Public Square. About 200 people awaited her arrival at Nelsonville and finally Sarah arrived, was escourted from her vehicle, then climbed the stairs of the old hotel to receive her key out on the historic porch. She thanked everyone for coming out to see her. Lots of local politicians were also on the porch with her. She signed a few autographs upon leaving for fans waiting by her car on her way to Athens for a college political rally.
Thanks for visiting our county Sarah!
---
Quick Search This Site:
UPDATED (September 1, 2009)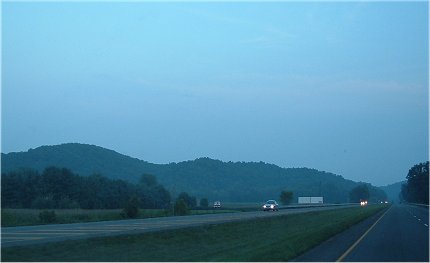 Route 33 near Doanville and Southeast towards Athens
Athens county Foothills at Dusk
all photography by Sandra Mitchell Quinn
HTML writer Sandra Mitchell-Quinn ©1999-2009
Sandy at ohgen dot net
ALL RIGHTS RESERVED
Thanks for stopping by Athens County History and Genealogy!

OPENGEN.NET
Neighboring counties: Hocking, Perry, Washington, Morgan , Vinton