Athens County Ohio Antique Family Photo's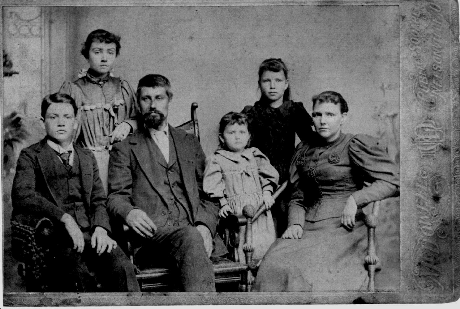 John William Eckels family in Murray City 1900- above- showing Sarah Elizabeth who married George Milliron, Harriet Anna who married Chester Lee Mitchell, James Arthur who married Martha Collins, John William Eckels (the father), Maude who married Louis Wilson, and Mary Elizabeth Hashman-Eckels (the mother). John was the son of George and Sarah Coffield Eckels/Echols of Marshall county, WV. Mary was the daughter of Hezekiah Hashman and step daughter of Sarah Strickland Hicks of Loudon County, Va. Hezekiah was in the civil war, Co. K, 92nd Ohio Volunteer Infantry. George Eckels was murdered by his neighbor in Wood county, WV in 1872. The families had relocated to Athens county, Murray City by 1885.
---
Click on each listing below to view the antique photo's
---
Maybe you can help identify the photos on the unknown photo page!
---
Isaac and Fannie Palmer Family
---
Phillip W. Lampson and wife Mary Polly Tracy of Athens county, OH
---
Lois Campbell of Coolville, OH
---
John and Addie Jaynes Bateman Friel on their Wedding Day
---
---
The Elisha Byers and wife Dorcus Tabitha Shepard Family of Trimble Twp. Athens county, Ohio
---
The William Elmer Shrieves Family of Trimble Twp. Athens county, Ohio
---
The Frank Porter and Althia Olive (Keirns) Dunlevy Family of Jacksonville. Athens county, Ohio
Sarah Eleanor Wolfe and husband Augustus Keirns of Athens county, Ohio
---
The Ignatius Schenz family of York township, Athens county, Ohio
---
Reuben Winchell Family of Waterloo Township, Nelsonville and Jobs, Ohio
---
The Aaron Burnard and wife Mary McCullough Family of Trimble township, Athens county, Ohio
---
The wedding photo of Paul Hanning and wife ? Horvath of Dover township around 1920s
---
The wedding photo of Daniel Nogrady and Margaret Spisak of Oregon Ridge Dover twp. around 1920
---
Ona L. Collins family of Buchtel, Ohio
Margaret Collins Holland of Buchtel, Ohio
Agnes Collins and Randal Russell of Buchtel, Ohio
Agnes Russell and husband William McDonald of Buchtel, Ohio
---
Andrew and Margaret Hughes Davis family, brother of Lewis and Mary Jane Collins Davis of Buchtel
Sophia Davis and daughter Audrey Davis Mitchell of Buchtel, Ohio
---
Albert Milligan and family including Jane Davis Hibbard wife of Peter Hibbard 1912 of Hebbardsville
---
Athens Civil War Veteran John Quinn family of New Marshfield reunion photo about 1900
William Quinn, wife Martha Byers and son Quinton of Murray City about 1894
Quinton Quinn and 2nd wife Navada Somers of Murray City
Navada Somers Nelsonville high school graduation photo of Nelsonville, Ohio
---
William W. Mitchell, wife Olive Davis and family of Nelsonville, Jobs and then Coalgate and Murray City 1900
Chester Lee Mitchell and wife Annie Eckels of Coalgate and Murray City about 1925
Charles Clayton "Ike" Mitchell and wife Audrey Davis in the Murray City Park about 1994
Charles Clayton "Ike" Mitchell and sister Hellen Mitchell in Murray City about 1924
Clifford "Snickel" Mitchell and wife Edna Schooley of Newtown and mother of Clifford- Annie Eckels Mitchell
Mary Elizabeth Hashman Eckels mother of Annie Eckels Mitchell.
---
William Stanley Robinson and wife Naomi Rhoda Campbell in Orbiston about 1940
William Henry Robinson and wife Emma Mains in Orbiston about 1950
---
Charlotte Munyon Coates and Coates family about 1900
Descendant of Arthur and Mary Ann Coates, Arthur was theoperator of the first Ferry in Athens county and owner of the farm where the Athens Hospital stands, now known as "The Ridges" of OU
---
Benjamin and Sarah Carr Stalder of Chauncey family photo about 1900
Lewis and Lilly Willey Evener family photo
Gertie and Trixie Finsterwald of Athens photo about 1888
---
---
Wyatt - Brown Family of Amesville
---
Murray City family taken 1900 Now identified are the Cornelius Murphy family
---
Athens- Amy Rizer with Farrell, Betty and Bobbie 1880's? Athens?
---
Murray City-Thomas? reunion photo
---
Murray City- Alvie (Rat) Trimmer and Joe (Peck) Shuttleworth
---
Murray City, Salem Hollow- Ida Bell Wright family 1925 and 1950
---
Josephine Morrison Spurgeon Hickman and family 1937 Murray City
---
---
Mary Alice Lee Campbell Palmer Holt and daughter Clara Campbell Buchanan -Murray City
America McFoy Lee Naborgal, McClelland and Naomi Lee Campbell, Ralph and Grace Wade Campbell 1930's in Orbiston
See also: The Journal of John Holt Murray City Coal Miner
---
Launcelot Scott Jr. of Nelsonville
---
Marion Newton Conner and wife Theodora Ann Bridge of Millfield
---
If you have an antique family photo to submit
HTML by Sandra Mitchell Quinn copyright 2006
All Rights Reserved