Area Coal Mine Photo's
Murray City, Ohio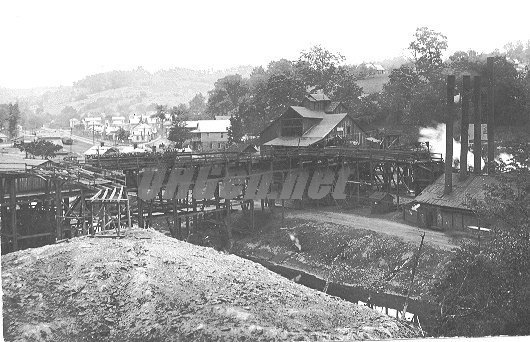 No. 5 mine in top photo, No. 7 mine in bottom photo
from postcards owned by
Sandra Mitchell-Quinn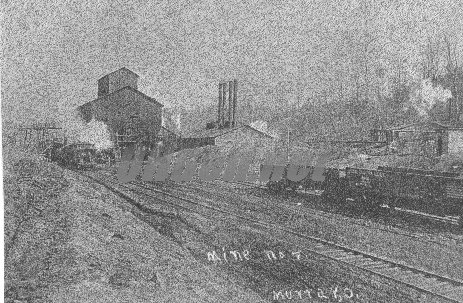 ---
Pioneer Coal Operator Opened First Mining Mine
Joseph Mitchell succumbs Thursday Feb. 17, 1933, age 81, a pioneer coal operator in Ohio, died Thursday at his home in Columbia Center, and will be buried in East Lawn Cemetery. Mr. Mitchell and his father, the late John McCullough Mitchell, opened the first coal mine at Murray City, Ohio. They also operated mines in other parts of southern Ohio and were in the coal business at New Straitsville, and Shawnee, Ohio for many years. He formerly lived in Columbus and was a member of the Masonic Lodge of New Straitsville for 47 years. His wife who died several years ago, was before her marriage Elizabeth Jane O'Bear. Two daughters, Mrs. Mary Mitchell Horn of 774 Siebert Street Nelsonville and Miss Ann Mitchell, at home and four grandchildren survive.
---
Miner Killed, Another is Hurt in Sunday Creek Fall
Charles Pierson, 42, Crushed Under Slide on Second Night of Work; Russell Manus, Seriously Injured, Is In Cherrington Hospital.
Charles Pierson, 42, married, was killed and Russell Manus, 19, single, his buddy, was seriously injured in a fall of coal at Mine # 5 of the Sunday Creek Coal Company; Murray City, late yesterday afternoon. Both men were residents of that community. They were employed on the night shift as loaders and had entered the mine about 8 o'clock. The fall occurred at their working place about one mile inside the mine shortly after they started to work it is stated.
Pierson, who leaves his wife and ? children lived about 20 minutes after the accident. He was crushed about the head and chest. He had returned to the mine for work just the day previously, having moved his family to Murray City from Haydenville where he had been employed. He was working his second shift when the fatal fall occurred.
Manus was crushed through the hips and his left leg was broken just below the hip. Internal injuries was feared. He was reported to be serious this morning at Cherrington Hospital, Logan, where he had been removed immediately after the accident.
October 30, 1930
Russell Manness 20, died Thursday at the Cherrington Hospital, Logan, where he was taken Wednesday following a fall of coal at Sunday Creek Mine No. 5, Murray City, in which Charles Pierson 43 was killed, and which Maness received injuries which resulted in his death. The body has been removed to the home of his mother, Mrs. Almeda Maness in Murray City. Funeral services will be Sunday afternoon at 2 o'clock at the Methodist Church in Murray City. Burial will me made at Murray City.
Oct. 31, 1930
Funeral services for Russell Maness, 20 years old, who was killed by a fall of coal in No. 5 mine were held Sunday afternoon at the Murray M. E. Church in charge of Rev. Householder. This was the largest funeral that has been held in the M. E. Church for some years. The deceased was very well known, having moved here when he was only 6 years old from Virginia. he had many friends in the town. He was also a member of the independent football team. He leaves his mother Mrs. Almeda Maness, one sister Beulah and two brothers, Raymond and Carl. Burial was made in the Murray City Cemetery.
Nov. 5, 1930
---
Young Miner Succumbs to Hurts Received Wednesday
Glenn Roy Marshall, 19, married, employed as coal loader at Mine No. 5 of the Sunday Creek Coal Company, Murray City, died at Cherrington Hospital, Logan, at 6:30 o'clock last evening, 15 minutes after his arrival there. Marshall was crushed about the chest as the result of an accident of the mine which occurred about 5 o'clock. Death was due to a punctured lung, it is stated.
Marshall was working on the night shift and was caught and squeezed between the rib and the car, it is reported.
Besides his wife Lucille, he leaves his step-father Daniel Bunting, his mother and four half-brothers, all residents of Murray City.
Coroner L. F. Jones, Athens held an inquest at Stout's Mortuary here last night where the body had been removed from the hospital. Funeral arrangements were not complete.
August 27, 1931
---
Above articles as they were presented in the Athens Messenger
Click here to see more Area Mine Photo's
This web page HTML and photo's copyright of the webmaster
Sandra Mitchell-Quinn
c. 1996-2002