Athens State Hospital and Employees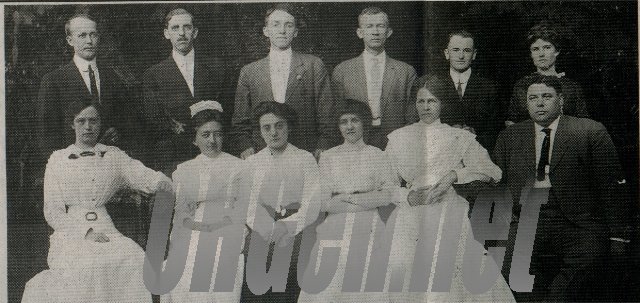 Only names available: Dr. R. E. Bushong, standing second from left, Dr. Bert Shoemaker third from left; and Dr. Freeman Osborne forth from the left.
Photo from Hester Creed Rose who obtained it from the late Netta Mapes, a long time employee there.
The above photo is from the Athens Messenger Looking back section March 7, 1993.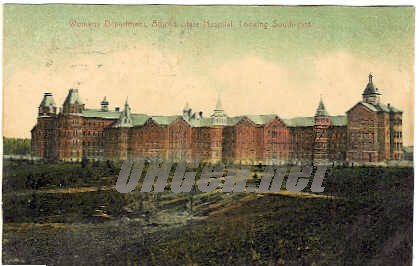 Southeast view of the Athens State Hospital about 1900
Administration offices of the Athens State Hospital and Asylum
Two Photos above from postcard files of Sandra Quinn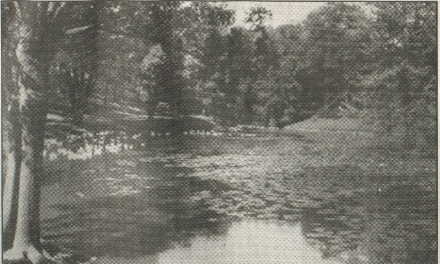 Above, the majestic hospital administration building and one of the picturesque ponds.
the above photo is from an article in the Athens Messenger in 1993.
"The Athens Mental Health Center opened on January 9, 1874 on land purchased from the Arthur Coates farm. Arthur's father Old Arthur Coates was the first ferry operator in Athens. The farm was a beautiful location and a large group of residents acting together purchased the beautiful farm for the future hospital. The Administration building housed offices of the Superintendent, assistant physicians, steward, and a general reception room for visitors. Two wings added to the building were used for patients. The second floor contained apartments of the medical superintendent. The third and fourth floors were used for administrative offices. Today the buildings are owned by the Ohio University and are being renovated for university use. The flood of 1967 brought changes to the landscape as the river was moved closer to the hospital and the picturesque ponds and waterfalls of the hospital grounds were removed by this change. "
First Woman Physician at Athens State Hospital for the Insane
Dr. Agnes Johnson Richmond
Dr. Agnes Johnson Richmond, Zanesville's first woman physician, began the practice of medicine here in 1868.
She was born at McConnelsville on Nov 3, 1836. She was the daughter of Mr. and Mrs. Abner Pyle of that town. Agnes Pyle attended the public schools of McConnelsville and grew up there.
At the age of 20, she married her first husband, Daniel T. Johnson, who had taught school several years in McConnelsville. At the time of their marriage, he was superintendent of schools in Marion, O. Two years later, he accepted a similar position in Warsaw, Ind. In both of these cities, Mrs. Johnson also taught school.
In Warsaw she studied medicine for two years with Dr. Theodore Davenport. When her husband's health failed in 1865, he gave up teaching and became agent for the Connecticut Life Insurance Co. with headquarters at Zanesville.
At that time, Mrs. Johnson went to Philadelphia and attended lectures at Women's Medical College. As soon as she was graduated in 1868 she opened an office in Zanesville. Dr. Johnson practiced here 13 years.
In 1881, Dr. Johnson received an appointment as physician on the medical staff of the Athens State Hospital for the Insane. Her obituary said that she was the first woman in the nation to be selected for such a position. She held the appointment for eight years.
Dr. Johnson's husband died in 1886. Three years later she went abroad with a party from Washington D. C. She also traveled extensively in this country and Cuba.
In 1903 Dr. Johnson married J. F. Richmond, a member of the New York conference and they moved to McConnelsville.
Dr. Richmond died in March 1925, and was buried at McConnelsville.

Sunday Times-Signal, published: Zanesville, Ohio
April 26, 1953
From an article by Norris Schneider
Also an excellent resource about the Athens Mental Hospital:
Please click here: Athens State Hospital by Ohio University Archives Library
and more: Athens State Hospital by Ohio University Library
and more: Forgotten Ohio
This webpage was created by Sandra Mitchell-Quinn for educational and genealogical purposes only
for her Athens county, OHGenweb site.
ALL RIGHTS RESERVED 2000-2004