Civil War Veteran John Quinn's family reunion photo taken about 1900 in New Marshfield, Athens county, Ohio
wife Mary Jane Bryson Quinn
children
William F. Quinn, Quinton Quinn, John Quinn Jr.,
Winfield S. Quinn, Nancy J. Quinn Linton Mace and
Luttishia Lulu Quinn Wharff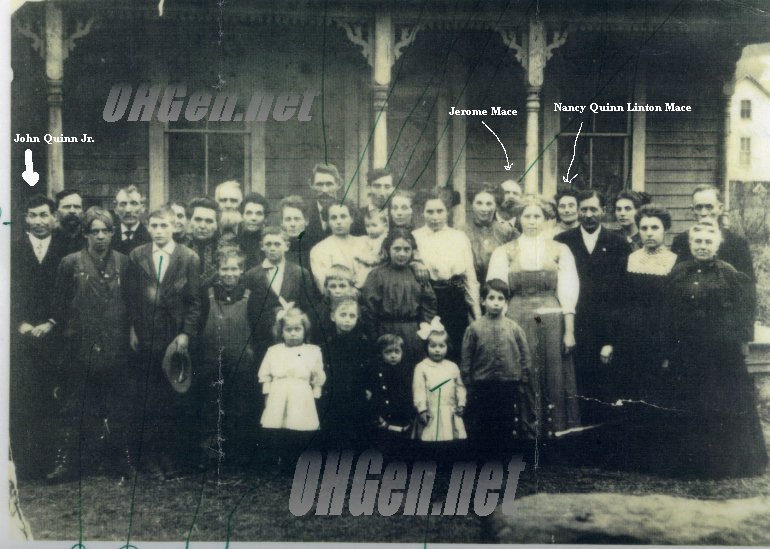 photo submitted by the Quinn family descendants copyright 2003
Genealogy of John Quinn- file created by Sandra Mitchell Quinn with help from
William Quinton Quinn, Reba Withers, and many of her descendants.
Obituary for John Quinn, New Marshfield- Nov. 28, 1921-
Nov. 24, 1921 at the advanced age of 95 years, John Quinn, a veteran of the Civil War died Sunday afternoon at the home of his son in law and daughter, Mr. and Mrs. Jerome Mace. Funeral services will be announced later.
Mr. Quinn served in the war with Company A, 18th Infantry.
He leaves five children William Quinn, Murray City, Winn and John Jr., New Marshfield, Mrs Lulu Worf of Chillicothe, and Mrs. Nannie Mace of this place. His wife preceded him 20 years in death.

Nov. 29, 1921-
New Marshfield, Nov. 29 Funeral services for John Quinn will be held Wednesday afternoon at 2 o'clock at the M. P. Church conducted by Rev. Leslie Dabrits with the American Legion in charge. Burial will be made in New Marshfield Cemetery.
The surviving children are William Quinn Murray, Winn and John Jr. New Marshfield, Mrs. Lulu Worf, Chillicothe, and Mrs. Nannie Mace of this place.

Obituary of John Quinn-by the American Legion-
October 12, 1826 at Larchfield (Loughouille) Parish, County Antram, Ireland, a son was born into the home of Mr. and Mrs. Quinn whom they called John, who after growing to manhood in the land of his nativity came to the United States to make his future home and met at Zaleski Ohio Miss Mary Jane Bryson whom he won for his bride in 1854. When the call came for men to enlist in the service of our country he became a member of Co. H., 18th regiment having Generals Thomas and C. Grosvenor as leaders. Some of the battles he fought were Stone River, Bull Run and Battle of the Wilderness. A record of three and a Quarter years showed him a soldier brave and true. Amid the cannon's roar, the trample of feet to music the cry of suffering comrades, thinking of home and friends, seeing his fellowman falling upon the right and upon the left he falters not and when the news come "we're going home" this man starts with clothes and blanket bullet riddled, skin colored because of the fire falling so near, yet not a scar, nor a scratch was to be seen on his body. Home again--taking up once more the duties of husband, father and citizen life becomes real and his once lonely home becomes one of peace and happiness, father and mother working together caring for home and children which have been entrusted to their keeping.

Time passes on--six children--four sons and two daughters are in the home but the older--the first born had been called back to the God who gave it ere earth knew him long, at the age of 21 years, passes on leaving a place vacant which never could be filled. Twenty years ago a sorrow, which no doubt is the heaviest that can come to any home - wife and mother taken from it. Twenty lonely years. The sons and daughters to love him, neighbors and friends to cheer him, yet to be separated at the age of 75, after a companionship of fifty years, meant sorrow to him, yet he did not sit, in sadness but was cheerful to the last mingling with his children, neighbors, grandchildren and friends in whom he was always interested.

"Thou shalt come to thy grave in a full age like a shock of corn coming in, in his season.", and so this man, Sunday afternoon, November 27, 1921, at 3:30 o'clock after having been given a full age - 95 years, 1 month, and 15 days on earth fell asleep, his home being in the home of his daughter, Mrs. Nannie Mace, New Marshfield.

An aged parent, grandfather, great grandfather and great, great grandfather has left the home and will be missed as he was a kind husband and father, a good kind neighbor and friend and a comrade of which one remembers as true to the colors.

As the end was nearing he called to his daughter to take his hand in hers, saying as he was looking into her face for the last time, "It is almost over." In her cheerful way said, "Father, ask Jesus and he may extend your time here longer: but he felt his soul was about to take its departure and said "All is well, I am at peace with my Lord" and soon the dim eyes closed to all earthly care and as we give back to mother earth today the body of this aged veteran may we say as one of old "God giveth and God taketh away; blessed be the name of the Lord." Those left of the immediate family are three sons, William of Murray City, Winn and John Jr., of New Marshfield; and two daughter, Mrs. Lulu Worf, Chillicothe; Mrs. Nannie Mace of New Marshfield, seven grandchildren, twelve great grandchildren and three great great grandchildren.

Soldier rest thy warfare's over, Sleep, thy work on earth is done, No more battles, no more farewells, For thy race of life is run. When the roll is called up yonder, and your comrades, one by one, Gather round thy Great Commander, May all hear, "Thy work's well done".

There was a Loughguile Parish in Antrim county, Upper Dunlucer Barony, Ballymoney Poorlaw Union Common Diocese Belfast Probate District.
Page 63 of Brian Mitchell's 1998 "New Genealogical Atlas of Ireland"
John Quinn was the son of William and Martha McLure Quinn of Ireland.
1860 Vinton County Census Record for Elk Township Pg 315

John Quinn 29 M Day Laborer 280 Ireland
Mary Jane (Bryson) 27 F Oh
Quinton 4 M "
William 3 M "
Winfield 1 M "

Civil War Muster Roll of Camp Wool, Athens Ohio 18th Infantry company A, and H-- 1861-1864- John Quinn born in Antrim County Ireland. Dark hair, dark complexion, blue-gray eyes, 5'10".

1870 census Vinton county Brown township page 2
John Quinn age 43 male white Ireland common laborer
Mary Jane 35 white female Virginia keeping house
William 12 white male works with father born in Ohio
Winfield 10 white male helps at home Ohio (note: disappeared for 20 years from the corner store, returned to the same spot he had disappeared from)
Nancy J. 9 white female attending school Ohio
Luticia 4 white female Ohio
John 2 white male Ohio (note: was deaf and mute)

1880 Vinton County Census record- Brown township, Madison Page 20

John Quinn White Male 52 Coal miner unemployed 6 mo. Ireland Ireland Ireland
Mary J. White female 49 keeping house WV Maryland Pens.
William F. White male 23 Son coal miner Ohio Ireland WV
Winfield S. White male 19 Son coal miner Ohio Ireland WV
Nancy J. White female 17 Daughter help at home Ohio Ireland WV
Lottishia White female 12 Daughter help at home Ohio Ireland WV
John White male 10 Son school can't write Ohio Ireland WV

In 1887 by Act of Congress for civil war veterans, John Quinn applied for a pension for the service he rendered in the civil war. Having contracted measles at Bakon Creek, Kentucky in 1862 and spending 7 weeks in a Louisville hospital, it affected his eyes. " I had measles at Bakon Creek, Ky, in 1862, which affected my eyes. Last March my eyes both swelled and pained me and the left eye bursted and I was confined to my bed for 9 weeks. I also contracted rheumatism and heart trouble in the service. Rheumatism affects my right leg. I get short of breath." Feb. 12, 1906. He was awarded a pension in 1887 for disease of eyes, rheumatism and heart. In 1887 he received $8.00 a month. It was increased after several medical exams throughout the years and in 1920 before he died he was receiving a pension of $72.00 a month. Before his death he was considered totally blind, eyesight in right eye 4/200. He was crippled with one leg shorter than the other by one inch. He walked with a cane and dragged one foot. And his heart had an irregular heart beat. He was living with the aid and care of his daughter Nannie Mace according to the civil war pension examiner.

1900 Athens County Census Record for New Marshfield

Thomas O. Linton Head White male born 9-26-1823 76yr old married 48 years brn in Ohio
Rozavelina Linton Wife White female born Jan 1832 68 yr old married 48 years brn in Ohio
Otha A. Tedrow Grandson White grandson Oct. 1884 15yr old single Brn in Ohio
next door widowed daughter in law Nancy (Nannie) Quinn Linton:
Nannie Linton Head White female brn July 1861 39 widowed 4 children 4 living brn in OH
Florence M. Daughter White female brn Sept 1889 10 single brn in Ohio
Gertrude M. Daughter White female brn March 1890 9 single brn in Ohio
Beatrice B. Daughter White female brn Dec. 1892 7 single brn in Ohio
Josie L. Daughter White female brn Oct. 1895 4 single born in Ohio
John Quinn Father White male brn Oct. 1827 72 married 49 years born in Ireland
Mary Jane Quinn Mother White female brn Jan. 1828 71 Married 49 years born in West Virgina
Mary and John had 6 children and 5 are living at this time.
John Quinn Jr. Brother White Male brn April 1867 32 single born in Ohio
John Snyder Nephew White male brn July 1894 5 single Born in Ohio
Stephen Ellis Servant White male Born Jan. 1831 68 single widowed born in Ohio

1910 Athens county Waterloo township New Marshfield census
Jerome Mace 48 O O
Nannie 48 O I WV
Marie Linton step daughter 20
Josie 14 step daughter
John Quinn 83 father in law
John Quinn Jr. 38 brother in law

1920 Athens county Waterloo township New Marshfield census
Jerome Mace 58 O O miner
Nancy wife 58 O Ireland WV
John Quinn 93 widow speaks Irish Irish Free State Ireland immigrated in 1852 naturalized in 1857

1930 census Athens county Waterloo township New Marshfield census side street past New Marshfield
Jerome Mace 68 married age 29 owns house $1600 farm
Nannie age 68 married age 29

Obituaries of the children of John and Mary Jane Bryson Quinn
Quinten Quinn born July 1, 1856 died August 1, 1876 of the flu in Vinton County
3-25-1943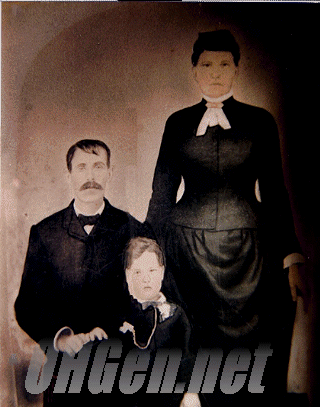 Athens County Death Certificate of William Quinn
William Quinn of Murray City, Ohio Trimble Township, was male, white, widower, widowed from Mattie Quinn, he was born 8-19-1857, he was 85 years 7 months and 4 days old. He was a retired coal miner, was born in Vinton County. No record of parents, informant was Quinton Quinn of Murray City, Ohio. Burial was in Greenlawn Cemetery March 26, 1943. The funeral home was C.L. Stout Funeral Home Nelsonville, Ohio. Cause of death was Bronchial Pneumonia and he was seen by me 3-9-1943 to 3-23-1943. Death is said to have occurred at 4 pm. Signed by J.P. Webb, 3-23-1943, Nelsonville, OH.
William Quinn Aged Resident of Murray City Dies
Nelsonville-- William Quinn, age 85 died Tuesday at his home at Murray City. He is survived by two sisters, Mrs. Nannie Mace, New Marshfield; Mrs. Lewis Worf, Chillicothe; two brothers, John and Winfield Quinn, New Marshfield; also two grandchildren ( William and Ruth) and three great grandchildren. Funeral arrangements are not complete. 3-24-1943
Nelsonville--Funeral services for William Quinn who died Tuesday at his home at Murray City, will be held at the Murray City Methodist Church in Murray City Friday morning at 10'30 o'clock, with burial at Greenlawn, Nelsonville. Friends may call at the home of the son, Quinton Quinn, Murray City, at any time. 3-25-1943

12-12-1945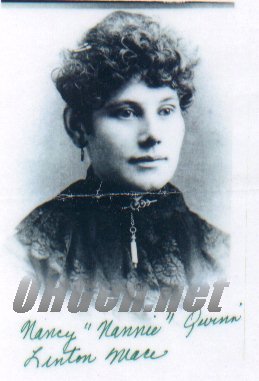 Illness fatal to Mrs. Mace
Mrs. Nannie Mace, age 84, died at her home yesterday following a long illness. Surviving are three daughters, Mrs. Gertrude Andrews, Mrs. Beatrice Sickles and Mrs. Josephine Scott, all of New Marshfield; two brothers Winfield and John Quinn, New Marshfield; and a sister Mrs. Luttia Worf, Chillicothe.
She was a member of the Methodist church of New Marshfield, burial in New Marshfield Cemetery, friends may call at the home after 1 pm Thursday.

John Quinn Dies at home
12-23-1945
John Quinn, 76 , died at his home in New Marshfield, Friday evening one week after the death of his sister Mrs. Nannie Mace in the same community.
Mr. Quinn had been ill a short time. Surviving are a brother, Winfield of New Marshfield and a sister Luttia Worf Chillicothe; three nieces, Gertrude Andrews, Mrs. Beatrice Sickles and Josephine Scott all of New Marshfield.
Funeral services will be conducted at 2 pm Sunday at the Hoodlett funeral home by the Rev. M. T. McDonald. Burial will be in the New Marshfield Cemetery. Friends may call at the funeral home at any time.

John Quinn Jr. was deaf and blind. His handicap had him considered a helpless child. He received his dad's civil war pension until he died in 1945.

3-12-1947
Winfield Quinn Marshfield Man, 88 Dies
New Marshfield-
Winfield Quinn, 88 died Tuesday morning at the Hillcrest Rest Home in Athens following a heart attack. He is survived by one sister Luttia Worf, Chillicother; three nieces, Mrs. Gertrude Andrews, Mrs. Beatrice Sickles, and Mrs. Josephine Scott, all of New Marshfield; and two nephews, Quinton Quinn, Murray City, and Harry Worf of Chillicothe. A brother John and a sister, Mrs. Nannie Mace preceded him in death.
Funeral services will be conducted Thursday at 2 pm at the Hoodlet Funeral home by the Rev. M. T. McDonald. Friends may call there at any time. Burial will be made at the New Marshfield cemetery.

Recent family member obituaries or tombstone inscriptions:

Notes for BEATRICE BELLE LINTON:

New Marshfield - May 16, 1967- Mrs. Beatrice Belle Linton Sickels, 74, New Marshfield Route 1, died Friday at Mt. St. Mary's Hospital. Survived by husband Clyde, two sons, Paul of Pittsburgh, Pa. and Jack of Albany. Services Tuesday, interment New Marshfield Cemetery.


Notes for Gertrude M. Andrews

Oscar E. 1885 - 1955 & Gertrude M. Andrews 1891 - 1980
Reba A. Withers
Died: Friday, May 30, 2003
Age: 93

NEW MARSHFIELD -- Reba A. Withers, 93, of New Marshfield, died Friday evening, May 30, 2003, at Hickory Creek Nursing Center, The Plains.

Daughter of the late Oscar E. and Gertrude M. Linton Andrews, she was born Jan. 8, 1910, at Hocking in Waterloo Twp.

A lifelong resident of New Marshfield, she was a 1928 graduate of New Marshfield High School and was recently recognized by the Alumni Association for her service to the association, PTA, 4-H and the New Marshfield community. Mrs. Withers was a member of the New Marshfield Methodist Church, Order of Eastern Star Chapter 346 and Rebekkah Lodge. She retired from Ohio University Food Service, having worked at Jefferson Dining Hall.

She is survived by four daughters and sons-in-law, Fauna and Billy Neal of Nelsonville, Peggy and Jerry Jagers of Athens, Carolyn and Boyd "Bud" Bobo of Athens and Linda and Jude Hedrick of Heath; a son-in-law, Russell Flint of New Albany, Ind.; 15 grandchildren and 28 great-grandchildren; two sisters, Mary Brooks of New Marshfield and JoAnn Pulfer of Athens; three sisters-in-law, Alice Andrews, Nora Andrews and Eileen Withers; a special cousin, Adrienne "Peg" Andrews; and several nieces and nephews.

Besides her parents, she is preceded in death by her husband of 60 years, Bernard J. Withers, in 1990; a daughter, Nancy Flint; sisters Catheren Collins, Lena Lightfritz, Beuhlah Herwick and Nell Gilham; and brothers Denver, James and Robert Andrews.

Funeral services will be conducted Tuesday, 11 a.m., at Jagers and Sons Funeral Home by Pastor David Cogar, with burial in New Marshfield cemetery.

A special thank you to the children of Reba and Reba herself, without whom I could not have finished this research!

Descendants of John Quinn

Compiled by Sandra Mitchell-Quinn

copyright 1994-2003

Generation No. 1

Information gleaned from census, civil war pension, and courthouse records and descendants of Reba Withers.

1.

JOHN2 QUINN (WILLIAM1) was born October 12, 1826 in Loughguille (pronounced Larchfield in English) Parish, Antrim County, Ireland, and died November 27, 1921 in Athens County, Ohio Waterloo Twp. Civil War Vet. 18th OVI Co.'s A and H. John came to America to Pittsburgh in 1852 reportedly with three brothers, and he came to work for the B & O railroad and he soon after married MARY JANE BRYSON March 20, 1854 in Vinton County, OH near Zaleskie, the wedding officiated by Rev. John Dowd. Mary Jane was the daughter of ABRAHAM BRYSON of Maryland and NANCY MCKEE of Pennsylvania, first settlers of New Plymouth in Vinton County, Ohio. Mary Jane Bryson Quinn was born 1828 in West Virginia, and died 1901 in Athens County, Ohio Waterloo Twp, New Marshfield.

More About J

OHN QUINN:

Burial: 1921, Buried in the New Marshfield Cemetery in Waterloo township

Census: 1850, 1860, 1870, 1880 Vinton County Census Record Elk and Brown Twp.

Census: 1900, 1910, 1920 Athens county Census Record Waterloo Twp.

Death certificate: 1921, Athens County Death Certificate

Marriage certificate: 1854, Vinton County, Marriage Record

Obituary: 1921, Obituary, American Legion Obituray

Pension: 1861, Military Record Civil War

More About M

ARY JANE BRYSON:

Burial: 1901, Buried in the New Marshfield Cemetery in Waterloo township

Children of J

OHN QUINN and MARY BRYSON are:
i. QUINTEN

3 QUINN, b. July 01, 1856, Vinton County, OH; d. August 01, 1876, Vinton county, Ohio 20 y 1 month Brown twp. Died of the flue. Was about to be one of the first to attend Rio Grande College.

2. ii. WILLIAM F. QUINN, b. August 19, 1858, Vinton County, OH; d. March 24, 1943, Hocking County, OH Quinn Hollow, Murray City, Ohio 43144.

iii. WINFIELD QUINN, b. July 01, 1860, Athens County, OH lived in New Marshfield in 1921; d. January 01, 1947, Athens County, OH Hillcrest Nursing Home THE Plains. Never married.

3. iv. NANCY "NANNIE" JANE QUINN, b. August 01, 1861, Vinton County, Brown township, Ohio; d. December 12, 1945, Athens County, Ohio.

4. v. LOTTISHIA " LULU" QUINN, b. July 04, 1864; d. Aft. 1943, lived in Chillicothe.

vi. JOHN QUINN, JR., b. July 20, 1867, lived in New Marshfield in 1921; d. December 21, 1945, Athens County, OH Waterloo twp. New Marshfield. Never married.

Generation No. 2

2.

WILLIAM F.3 QUINN (JOHN2, WILLIAM1) was born August 19, 1858 in Vinton County, OH, and died March 24, 1943 in Hocking County, OH Quinn Hollow, Murray City, Ohio 43144. He married MARTHA ANN BYERS March 19, 1883 in Athens County, Ohio Book 7, Vol. 223, daughter of ELISHA BYERS and DOROTHY (Dorcus Lobitha) SHEPARD. She was born December 17, 1845 in Belmont Co. OH, and died January 28, 1927 in Hocking County, OH Quinn Hollow. Martha was previously married to Wm. Blakely born in 1839 of Monroe county, Ohio and she had a daughter Isophene Blakely with him in 1872. Martha was listed as a widow in the 1880 census which was shortly before she married William.

More About W

ILLIAM F. QUINN:

Burial: Greenlawn Cemetery, Nelsonville, Ohio

Census: 1900, 1910, 1920, 1930 Athens Co. Census Record TRI 41 B Quinn Hollow

Deed: August 26, 1926, Athens County, OH

More About M

ARTHA ANN BYERS:

Burial: Greenlawn Cemetery, Nelsonville, Ohio

Census: 1840 Belmont county; 1860 Morgan county, Log Cabin Post office

Census: 1870 Athens county, Trimble township; 1880 Hocking county census Ward Township

Marriage Record: March 19, 1883, Athens Co. Marriage Record Vol.7, Page 223

Child of W

ILLIAM QUINN and MARTHA BYERS is:
5. i. QUINTON

4 QUINN, b. August 31, 1884, Athens County, OH Quinn Hollow; d. April 1966, Athens County, OH Quinn Hollow.

3.

NANCY "NANNIE" JANE3 QUINN (JOHN2, WILLIAM1) was born August 01, 1861 in Vinton County, Brown township, Ohio, and died December 12, 1945 in Athens County, Ohio. She married (1) THOMAS JEFF LINTON July 01, 1888 in Vinton County, son of THOMAS O. LINTON. He was born Abt. 1860 in Nelsonville, Ohio, and died 1897 in died in Railroad accident. She married (2) JEROME MACE Bef. 1910. He was born 1861, and died 1942 in Athens county, Ohio.

More About N

ANCY "NANNIE" JANE QUINN:

Burial: Waterloo twp. New Marshfield Cemetery Athens county, Ohio

More About T

HOMAS JEFF LINTON:

Burial: Waterloo twp. New Marshfield Cemetery Athens county, Ohio

More About J

EROME MACE:

Burial: Waterloo twp. New Marshfield Cemetery Athens county, Ohio

Children of N

ANCY QUINN and THOMAS LINTON are:
6. i. FLORENCE MARIE

4 LINTON, b. 1889, Athens County, OH; was in the 1930 census, Athens County, OH.

7. ii. GERTRUDE M. LINTON, b. 1890, Athens County, Ohio; d. 1980, New Marshfield.

8. iii. BEATRICE BELLE LINTON, b. 1892, Athens County, Ohio; d. 1967, Athens County, Ohio.

9. iv. JOSEPHINE LINTON, b. October 1895, Athens County, Ohio; Lived in Columbus franklin county 1930.

4.

LOTTISHIA " LULU"3 QUINN (JOHN2, WILLIAM1) was born July 04, 1864, and died Aft. 1943 in lived in Chillicothe. She married LEWIS JAMES WORFF/ WHARFF.

Children of L

OTTISHIA QUINN and LEWIS WHARFF are:
i. HARRY

4 WORFF.

ii. TWIN SON WORFF.

iii. SON WORFF.

Generation No. 3

5.

QUINTON4 QUINN (WILLIAM F.3, JOHN2, WILLIAM1) was born August 31, 1884 in Athens County, OH Quinn Hollow, and died April 1966 in Athens County, OH Quinn Hollow. He married (1) GRACE LAFOLLETTE Bet. 1910 - 1911 in Murray City, Ohio. She died 1918 in Athens County, OH during the flu epidemic. He married (2) NAVADA MURIEL SOMERS 1923 in Athens County, Ohio, daughter of NOAH SOMERS and OLLIE STALDER. She was born December 20, 1896 in Athens County, OH Nelsonville and died January 28, 1982 in Athens County, OH. Navada graduated from Nelsonville High School in 1915 was a student at Ohio University in 1917 and received her teaching certificate and substitute taught in the Doanville school near Nelsonville For Mrs. Smart.

More About Q

UINTON QUINN:

Burial: Greenlawn Cemetery, Nelsonville, Ohio

Occupation: coal minerand Murray City town barber

More About N

AVADA MURIEL SOMERS:

Burial: Greenlawn Cemetery, Nelsonville, Ohio

Children of Q

UINTON QUINN and GRACE LAFOLLETTE are:
i. RUTH G.

5 QUINN, b. 1917, Hocking County; d. January 31, 1974, in Norfolk, Virginia

Notes:1.

RUTH G.5 QUINN (QUINTON4, WILLIAM F.3, JOHN2, WILLIAM1) was born 1917 in Hocking County, and died January 31, 1974 in Norfolk, Virginia; Johnson Funeral Home had her funeral in Nelsonville, buried in Greenlawn Cemetery with Rev. Gordon Sullivan Officiating. She married DONALD KENNETH (JAKE) LOPER Abt. 1931 in Athens County, son of CLAUDE LOPER and LEAH STURGHILL. He was born 1913 in Murray City, Ohio, and died 1979.

Children of R

UTH QUINN and DONALD LOPER are:
i. LEAH G.

6 LOPER, b. Virginia; m. UNK BARKER.

ii. KEITH A. LOPER, b. Virginia.

iii. ALICE FAYE LOPER, b. lives in Chicago; m. UNKNOWN DEPIS.

iv. NANCY LEE LOPER, b. Virginia; m. UNKNOWN BROOKS.

v. DONNA KAY LOPER, b. Virginia; m. UNKNOWN SHARPE.

vi. JOHN C. JACK LOPER, b., Virginia; m. JUDY UNKNOWN.

ii. DONALD QUINN, b. April 14, 1914, Hocking County, OH; d. 1925, Hocking County, OH of intestinal interitis.

Child of Q

UINTON QUINN and NAVADA SOMERS is:
iii. WILLIAM QUINTON

5 QUINN, ; m. JOANN (Private)

Notes: 1.

WILLIAM QUINTON5 QUINN (QUINTON4, WILLIAM F.3, JOHN2, WILLIAM1) He married JOANN

Children of W

ILLIAM QUINN and Joann are:
i. WILLIAM JOE

6 QUINN, m. CHRISTINA

ii. DANIEL QUINTON QUINN, m. 1.)PAULA SUE , m. 2.)Mary Ellen

iii. CINDA ANN QUINN, m. LEO

iv. DENNIS EDWARD QUINN m. SANDRA KAY

6.

FLORENCE MARIE4 LINTON (NANCY "NANNIE" JANE3 QUINN, JOHN2, WILLIAM1) was born 1889 in Athens County, OH, and died 1930 in Athens County, OH. She married HERBERT FLOYD TOWNSEND Abt. 1911 in Athens County. He was born 1889, and died 1955 in Athens County, OH.

More About F

LORENCE MARIE LINTON:

Burial: Waterloo twp. New Marshfield Cemetery Athens county, Ohio

More About H

ERBERT FLOYD TOWNSEND:

Burial: Waterloo twp. New Marshfield Cemetery Athens county, Ohio

Children of F

LORENCE LINTON and HERBERT TOWNSEND are:
i. ADRIENNE (PEG)

5 TOWNSEND, b. 1912, Nurse at Sheltering Arms Hospital 42 years; m. MR. ANDREWS.

ii. ROBERT TOWNSEND, b. 1913.

iii. VAUGHN "TWIN" TOWNSEND, b. 1917.

iv. VAUGHT "TWIN" TOWNSEND, b. 1917.

v. BERNARD TOWNSEND, b. 1919.

vi. DONALD TOWNSEND, b. private,;

vii. FRANK TOWNSEND, b.private,;

7.

GERTRUDE M.4 LINTON (NANCY "NANNIE" JANE3 QUINN, JOHN2, WILLIAM1) was born 1890 in Athens County, Ohio, and died 1980 in New Marshfield. She married OSCAR E. ANDREWS Abt. 1908 in Athens County, son of F. ANDREWS and MALINDA BOGGS. He was born 1885 in Athens County, Ohio, and died 1955 in Athens County, Ohio.

More About G

ERTRUDE M. LINTON:

Burial: Waterloo twp. New Marshfield Cemetery Athens county, Ohio

More About O

SCAR E. ANDREWS:

Burial: Waterloo twp. New Marshfield Cemetery Athens county, Ohio

Children of G

ERTRUDE LINTON and OSCAR ANDREWS are:
i. CATHERINE

5 ANDREWS, b. 1909, Lived in Florida; m. UNK COLLINS.

ii. REBANELLA? ANDREWS, b. 1910, Athens County, Ohio Carbondale; m. MR. WITHERS.

iii. LENA ANDREWS, b. 1914, Lived in New Marshfield; m. UNK LIGHTFRITZ.

iv. DENVER ANDREWS, b. 1918, Lived in Idaho.

v. BEULAH ANDREWS, b. private, Lived in Marcellus Michigan; m. UNK HERWICK.

vi. JAMES ANDREWS, b. private,, Lived in The Plains, OHio.

vii. MARY ANDREWS, b. private,, Lived in New Marshfield; m. UNK BROOKS.

viii. WANDA JOANNE ANDREWS, b.private,; m. RUSSELL M. PULFER.

ix. ROBERT ANDREWS, b. private,, Athens County; d. 1980, Athens County; m. NORA K. UNKNOWN.

8.

BEATRICE BELLE4 LINTON (NANCY "NANNIE" JANE3 QUINN, JOHN2, WILLIAM1) was born 1892 in Athens County, Ohio, and died 1967 in Athens County, Ohio. She married CLYDE J. SICKELS Abt. 1909. He was born 1890 in Athens County, Ohio, and died 1975 in Athens County, Ohio.

More About B

EATRICE BELLE LINTON:

Burial: Waterloo twp. New Marshfield Cemetery Athens county, Ohio

More About C

LYDE J. SICKELS:

Burial: Waterloo twp. New Marshfield Cemetery Athens county, Ohio

Children of B

EATRICE LINTON and CLYDE SICKELS are:
i. KARL CLAYBORN

5 SICKELS, b. 1912.

ii. PAUL E. SICKELS, b. 1915.

iii. JACK BRYSON SICKELS, b. private,, Athens County, Ohio; m. WILMA BRIDGE;

9.

JOSEPHINE4 LINTON (NANCY "NANNIE" JANE3 QUINN, JOHN2, WILLIAM1) was born October 1895 in Athens County, Ohio, and Lived in Columbus Franklin county 1930. She married J. LESTER SCOTT. He was born 1892, and died 1972.

More About J

OSEPHINE LINTON:

Burial: Waterloo twp. New Marshfield Cemetery Athens county, Ohio

More About J

. LESTER SCOTT:

Burial: Waterloo twp. New Marshfield Cemetery Athens county, Ohio

Children of J

OSEPHINE LINTON and J. SCOTT are:
i. JACK

5 SCOTT.

ii. DWIGHT SCOTT.

I would love to hear from anyone researching these families!

copyright 1996-2003 webmaster

Sandra Mitchell Quinn

ALL RIGHTS RESERVED