Nelsonville, Ohio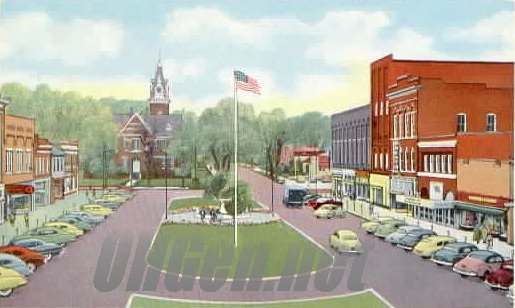 Nelsonville, Ohio Public Square 1949
First Settlers of Nelsonville
From the History of the Hocking Valley page 417
The first settlers of Nelsonville have been given, but the following named persons were residing in the village Jan. 1, 1827, as their names were found on the subscription paper in January and February of that year, to the Hocking Bridge: Jas. Knight, C. L. Fisk, Wm. Biggerstaff, Wm. Harper, Robert Thompson, Amorn Entsminger, Jas. Pickett, Jos. Brett, Saul Pickett, Jonathan White, Daniel Nelson, Jas. Tenants, Wm. Long, John Rochester, M. B. Lovewell, Samuel K. Harrington, Jacob Feirce, Jacob Skeiver, Calvin Thompson, Richard Mills, Thos. Thompson, Geo. Mills, Wm. Gleason, John McKeye, Abijah Weaver, Martin L. Sheppard, Thos. Campbell, F. Billinghurst, John Hume, E. Stewart, David Robers, Thos. Brien, John Brown, B. Brice, Chas. Shipman, Robt. Callis, Isaac Barker, Hocking H. Huhler, Wm. Stewart, G. Kincannon, Harry Henshaw, Harvey Weill, Geo. Walker, Christian Eby, Justus Rynold, Leroy Allen, Norman Root, John Beach, Jos. B. Miles, A Cormac, David Johnson, Calvary Morris, Solomon Finney, Dwight Jarvis, John Wight, A. Brown, John Noble, G. Browning, E. Hibbard, John Wright, Henry Bartlett, Thos. Irvin, Ebenezer Currier, R. E. Constable, Jno. Dana, Cephas Carpenter, J. J. Fuller, Emery Newton, E. Burnett, Thos. Harris, Chas. O'Neil, S. F. McCracken, S. B. Pruden, C. F. Perkins, Samuel Entsminger, Benjamin Johnson, Jacob Claypool, David Skiver, John Graham, John S. Putman, Elias Spencer, Nicholas Bates, George French, Elijah Watkins, Samuel Lewis, John Connch, Daniel Jacob, Thos. Watkins, Jas. Coe, Jos. S. Rollins, John Entsminger, David Dunham, Solomon Tuttle, Rufus P. Danir, Peter M. Dodd, John Conrad, John Weavin, Daniel Boomer, Moses Lewis, Edmund Terry, John Samson, Jacob Benjamin, Henry Roberts, John Chamberlin, John Dodd, Michael Weavin, John Perkins, Amos Crippen, Wilmarth Allen, Seth Morge.
More information on Nelsonville
transcribed from two resources:
(The History of Athens County by Charles M. Walker and The Hocking Valley History 1883, the Nelsonville sections)
The first flour mill in Nelsonville was built by Josiah Coe in 1816 which later became the Robbins Mill. About 1820 Thomas Thompson opened a tavern. James Knight opened the first store in 1822. The first tannery was opened by Samual Robbins in 1825.
In 1818 George Courtauld purchased what is now the east end of Nelsonville known as the Fourth Ward. This area was known as Englishtown and had the first post office in his store in the city. After the sudden death of Mr. Courtauld the post office was moved to Nelsonville proper and Daniel Nelson was named postmaster in 1825.
Nelsonville Postmasters in the early 1800's
| | | | |
| --- | --- | --- | --- |
| Daniel Nelson | | | 1825-34 |
| James Knight | | | 1834-36 |
| John Lillabridge | | | 1836-39 |
| Henry Parkson | | | 1839-40 |
| L. D. Poston | | | 1840-48 |
| John H. Tucker | | | 1848-50 |
| Charles Cable | | | 1850-52 |
| Alfred Couden | | | 1852-55 |
| C. A. Cable | | | 1855-57 |
| M. A. Stuart | | | 1857- 2 quarters |
| Joseph Brett | | | 1857-62 |
| Thomas Mintun | | | 1862-66 |
| John F. Welch | | | 1866-71 |
| Elliott Gardner | | | 1871-1878 |
| J. W. Frost | | | 1878-83 last recorded date |
Daniel Nelson built a home in 1820 on the lot which was the site of the former Hoodlet's store and is now occupied by the First National Bank. According to the publication, 125th Anniversary of Nelsonville, Ohio, published in 1963, the Nelson double-log house was moved from its original location around the corner to Columbus Street, and at that time it became a schoolhouse. In 1871 it was moved to Fayette Street where it reverted to a private dwelling. In 1902 it was moved again to an adjacent lot. During this move 10 to 12 feet were removed from the middle of the double log home. This historic building is still standing at 87-89 Fayette Street.
The Dew House Hotel was built by Thomas Dew in 1830. Mr. Dew had migrated from Maryland in 1819. The original building was a two story brick structure. The basement housed a tavern with steps leading to it from Columbus Street. In 1871 artist and photographer Thomas Sansome Nutter and his wife Annettie Mitchell were the proprietors of the Dew Hotel. Annettie Mitchell Nutter was the grand daughter of coal mine operator Clement Fay. James Dew, known as Senator Dew, acquired the hotel in 1876 and added the third story and later the porch. Theodore Roosevelt spoke in Nelsonville from the porch of the Dew House during his presidential campaign in 1912.
Cables Store, one of the oldest in Nelsonville, was founded in 1849. The first bank in Nelsonville was the Merchants and Miners Bank founded in 1873.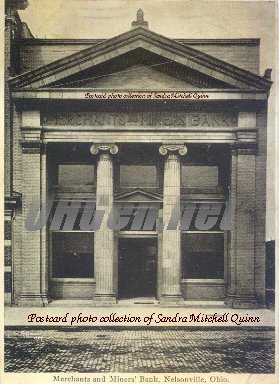 The Merchants and Miners Bank opened in Nelsonville in 1873 and at the time was the only bank in Nelsonville. At the first election of officers , Charles Robbins was elected President, John W. Scott, Vice-President, and Charles A. Cable, Cashier. The original stockholders were Charles Robbins, John G. Meyers, John W. Scott, Charles A. Cable, W. B. Brooks, of Columbus and E. H. Moore of Athens. In 1883 the stock was owned by Charles Robbins, Charles Cable, E. H. Moore and Eugene J. Cable, Mr. Robbins was the President and Mr. C. A. Cable the cashier.
The first telephone line in Nelsonville was from the Dew Hotel to the William Poston livery stable. The first brick plant was opened in 1871 by Thaddeus Longstreth in the Parkdale Addition. The first newspaper was called the Times, it was a six column weekly paper, but only lived a short time. The Nelsonville Miner was published by George Cook. The coal operators got down on him for his independent spirit, and he closed out in December 1875 to J. A. Straight. This was followed by the Mirror and it was succeeded by the Nelsonville News established in 1879 by John Tullis. The first issue was Jan. 16, 1879.
Early lawyers were James A. Tobin, Asher Buckley, W. C. Hickman, and A. J. Schrader. Physicians were Aaron Shepard, I. P. Primrose, W. N. Alderman, W. E. W. and S. M. Shepard, K. Tinker, C. F. Gilliam & S. E Butt, J. W. Johnson, and A. J. Schrader.
The town was incorporated by act of legislature in 1838 and the first mayor was elected in April 1839.
Nelsonville Mayors and Year Elected
| | |
| --- | --- |
| 1839 | Charles Cable |
| 1840 | William Burlingame |
| 1841 | Ebenezer Fenimore |
| 1842 | Solomon Roberts |
| 1843 | James Deaver |
| 1844 | No record |
| 1845 | R. G. McLean |
| 1846 | No record |
| 1847 | No record |
| 1848 | Lewis Steenrod, resigned, A. J. Guitteau appointed |
| 1849 | no record |
| 1850 | B. A. Lincoln |
| 1851 | No record |
| 1852 | Thomas L. Mintun |
| 1853 | L. Hutchins |
| 1854 | H. H. Myers |
| 1855 | A. M. Burgess |
| 1856 | C. T. Hyde |
| 1857 | No record |
| 1858 | J. E. Price |
| 1859 | A. H. Burrell |
| 1861 | J. E. Howe |
| 1862 | M. A. Stewart |
| 1864 | James Eddington |
| 1865 | H. H. Myers |
| 1866 | Jacob C. Frost |
| 1867 | R. R. Patterson |
| 1868 | John F. Welch |
| 1870 | John F. Welch |
| 1871 | S. W. Butt |
| 1872 | Thomas L. Mintun |
| 1873 | Thomas L. Mintun |
| 1874 | Wm. Gilliam |
| 1875 | A. J. Schrader |
| 1876 | R. R. Ellis |
| 1877 | R. R. Ellis |
| 1878 | John F. Camp |
| 1879 | Asher Buckley |
| 1880 | Asher Buckley |
| 1881 | Asher Buckley |
| 1882 | James A. Tobin |
| 1883 | James A. Tobin last recorded date |
In 1883 Nelsonville city schools had 17 teachers who were F. S. Coultrap, Superintendent; Alice C. Pierce, Principal, Lucy A. Bell, Assistant; Meda Riddill, Helen T. Musser, Sarah Washburn, Mattie Warren, Ida B. Maxwell, Kate Gavriel, Callie Carnes, Retta Eckles, Elta Riddill, Emily Saumenig, Mary Weihr, Mrs. S. S. Keyser, Lizzie M. Howe and Lillie M. Butterworth, teachers. There was an average enrollment of 780 pupils. The three story school was built of brick in the year 1856.
Nelsonville was known also for its mineral wealth, namely coal mining. Many entrepreneurs made their fortune operating coal mines and providing the industry that was needed for coal mining. The canal through Nelsonville proved inadequate as a way of transporting the goods so shortly after the civil war the Columbus and Hocking Valley railroad was brought through town. Names associated with these coal mine operations were Thomas Ewing, Samuel F. Vinton, James Fuller, A. B. Walker, Clement Fay, John Crothers, C. Steenrod, Launcelot Scott, J. F. Somers, L. Steenrod, L. D. Poston, Mathew Vanwormer, Dr. Robert Fulton, W. B. Brooks, Thaddeus Longstreth, Johnson brothers, Juniper brothers, Nelsonville Mining Company, and W. A. Shoemaker and company. Between 1000 and 1200 men worked in these mines, the price paid in 1883 was 80 cents a ton.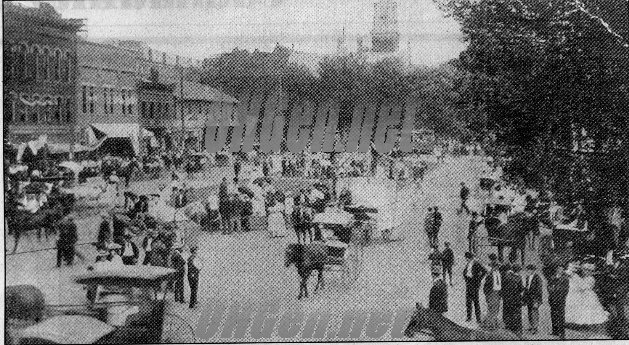 Nelsonville square horse and buggy days about 1907, photo postcard from Athens Messenger Looking Back section.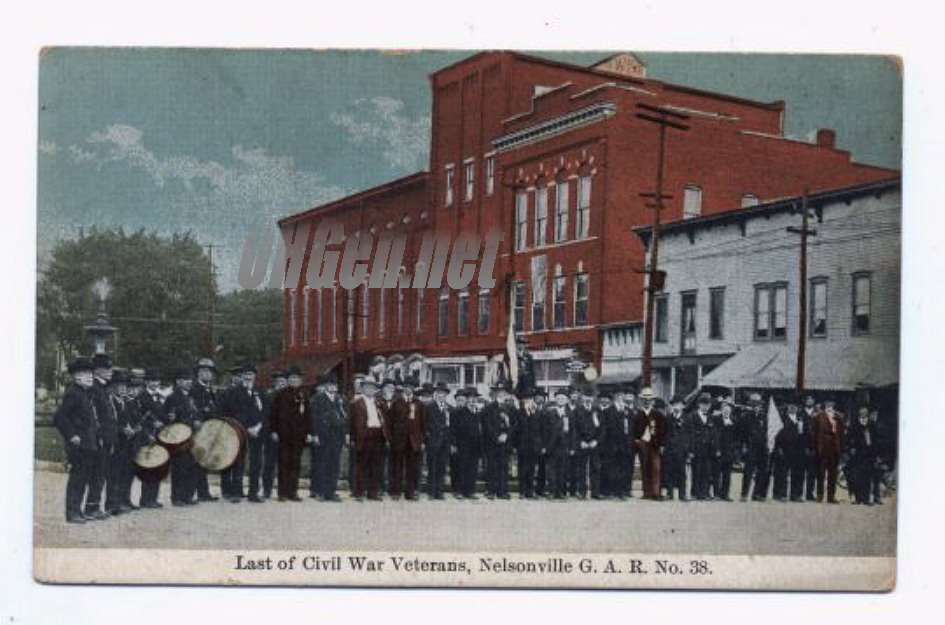 Photo taken in the Victorian Public Square, Stuart's Opera House is the Red Brick Building behind the veterans.
Photo postcards from the file of Sandra Mitchell-Quinn
---
I have a lot of great memories Nelsonville, shopping at Hoodlet's for school clothes... Luckoff's for shoes... Bob Wilson Sr.'s portrait studio... Maurer's five and dime... the Majestic Theatre... Dow's Roller Skate Arena... the city pool down by the old football field... Friday night football games... Candy striping at Mount St. Mary's hospital... Cable's hardware... the People's Bank... Doc Zlatkind's dentist office....the 33 Drive In Movies...the old library by Stuarts Opera House...Ogg's wholesale...Brooks Shoe Factory...LS where you could find what you need no matter what it was...Blackburn's furniture store...The Parade of the Hills festival..Thunder in the Hills fireworks... and much more...
Today Nelsonville is the home to Hocking College which attracts families to its educational pursuits and attracts tourists each year to it's Paul Bunyan Festival. For train enthusiasts there is the Hocking Valley Railroad, which takes riders on a short journey through the past. The Nelsonville Parade of the Hills annual event is held in the Victorian Nelsonville square.
Nelsonville's claim to Hollywood fame was the movie "Mischief" with many scenes filmed around town during the middle 1980's. Originally the movie was to be called "Heart and Soul" but Sally Field's movie "Places in the Heart" was scheduled for the same release time so the name was changed to Mischief. It is one of those teen romance movies and when the movie came out it did not represent the old fashioned values of Nelsonville's residents who were generally shocked by the movie's R rated content. However, the film does show some background scenery of historical Nelsonville.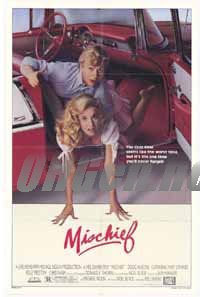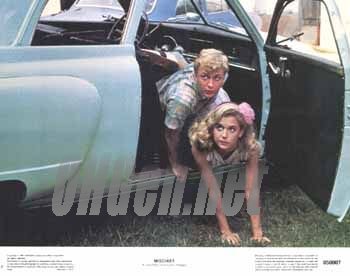 movie posters from Twentieth Century Fox Studio's
The Victorian Square was also filmed in a commercial for the television game show "Wheel of Fortune" where Pat Sajak and Vanna White traveled around the Nelsonville Victorian square in their convertible. People from all over the area turned out for the making of the commercial to wave at Pat and Vanna as they circled the public square. Circling the public square, honking the horn, is a big tradition for many life events in Nelsonville, including the newlyweds first drive.
Famous actress Sarah Jessica Parker Broderick was born in Mount St. Mary's Hospital, along with hundreds of the rest of us, born between its grand opening in 1950 and the 1980's and this hospital is currently known as Doctor's Hospital.
.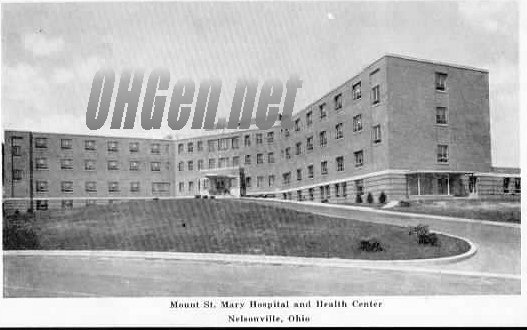 ---
More Nelsonville History and Genealogy
---
click news article to see webmaster and classmates in Nelsonville news 1973
---
This webpage was created by Sandra Mitchell-Quinn for
a free history and genealogy website for the online community
copyright 1996-2004 All Rights Reserved