The Nelsonville Cross
an article by Rev. John L. Evans (about 1973)
transcribed for Athens County, OHGENWEB by Sandra Mitchell- Quinn
Miss Elizabeth (Betty) Smith
1924
graduate of Nelsonville high school and member of the First Presbyterian Church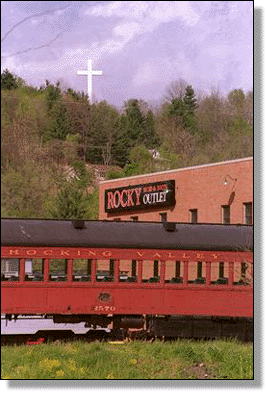 Nelsonville Cross
great photo by John Liston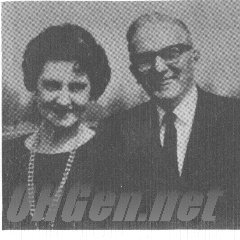 Mr. and Mrs. Walter (Betty) Schwartz
Mr. Schwartz erected the cross as a memorial to his wife, who died in 1972.
The Nelsonville Cross was erected on Kontner's Hill April, 1973. It is a Memorial Cross to Mrs. Elizabeth Smith Schwartz by her husband Mr. Walter L. Schwartz.
The body of the cross is 4 feet by 4 feet, the cross arm is 25 feet in length and the body is 65 feet tall., anchored to a base of concrete which rises 8 feet above the hilltop. Manufactured of metal of special composition which includes steel and aluminum, it bears a porcelain white color.
Newspapers in all parts of America and Europe have carried photographs of it as the "World's Largest Metal Cross", illuminated by mercury lights during the nights. Nelsonville has received much publicity from its location.
The land was secured from the Nelsonville Lumber Company through the courtesy of Mrs. Emily Sharp Hennessey and the children of the late Josephine Sharp Hall.
A number of devout Christian men of the architect's firm and in the manufacturing company saw that reasonable charges were made for their work and time. $17,500 was the cost of The Nelsonville Cross. Mr. Schwartz deeded the land and the cross to the First Presbyterian Church of Nelsonville as a trustee relationship with the other Christian churches of Nelsonville. The trust states that should The Nelsonville Church cease to exist, then the cross will go to others in the community.
It costs in the neighborhood of $400 to light the cross for one year, therefore Mr. Schwartz has paid the bill for one year and will continue to do so during his life. At his death, $35,000, which he holds in trust, will go to the trustees of the First Presbyterian Church who by legal papers agree to continue to keep the cross lighted.
Mr. Snap Coakley is painting the base of the cross with two coats of ceramic paint. Three sides are to have scripture verses or appropriate slogans on them. Please give you suggestions to your minister.
Friends have scraped the road leading from the top of the hill on Pleastview Avenue to the cross. Property owners which own the land thru which the road passes are: The Wayne National Forest, Treva Shaw, Dr. Wilson. They have freely permitted us to do this. We suggest that you drive only on a very dry day and very slowly and cautiously. Park at the City Water reservoir and walk a few hundred feet to the cross. May God Bless You. Rev. J. Lloyd Evans.
Nelsonville Cross photo source: www.viscom.ohiou.edu/nelsonville/crossovertrain.html (Nelsonville Dusk to Dawn)
Article, and photos of Miss Smith and husband Walter Schwartz source: Lion's club 1973 Parade of the Hills pamphlet
This webpage created for Athens County OHGENWEB
copyright 2004
All Rights Reserved by the Webmaster