Thomas Davis and wife Sophia Iona Spurgeon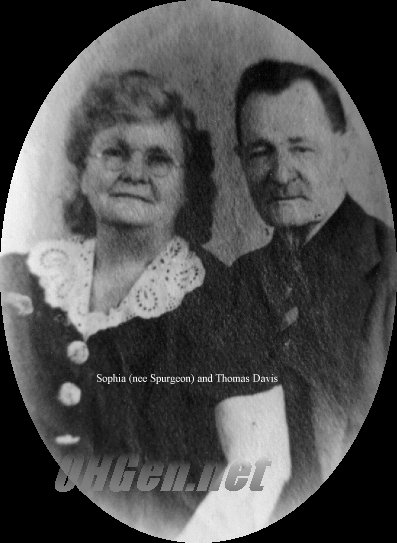 Athens County Marriage Record 10-11-1906

In the matter of Thomas Davis and Sophia Spurgeon. The undersigned respectfully make application for a Marriage License for said parties and upon oath states that said Thomas Davis is 32 years of age , his residence is Buchtel Ohio, his place of birth is WV, his occupation is coal miner, his father's name is Lewis Davis and his mother's maiden name was Jane Collins, that he was not previously married and that he has no wife living. That said Sophia Spurgeon is 23 years of age, her residence is Buchtel, her place of birth is Perry County, Ohio, her occupation is none, her father's name is Thomas Spurgeon, her mother's maiden name was Josie Morrison, that she was not previously married. Signed by Thomas Davis this 11th day of October 1906.

1910 Buchtel Ohio census page 180 district 042
Thomas Davis
Age: 35 State: OH
Color: W Enumeration District: 0042
Birth Place: Ohio Visit: 0180
County: Athens, Buchtel
Relation: Head of Household
Other Residents: Relation Name Color Age Birth Place
Wife Silvia (spelling error should have said Sophia) age 26 Ohio
Daughter Louise T newborn infant Ohio

1920 Athens County Census Record Buchtel York Township

Thomas Davis Head M W 45 Mar MH Yes Yes West Va West Va West Va Coal Miner W
Sophie (Spurgeon) Wife F W 35 Mar Yes Yes OH OH OH Yes None
Belford Son M W 19 S yes yes OH WV OH Yes None (son of Sophie)
Louise Dau F W 11 S yes yes OH WV OH Yes None
Ruth Dau F W 9 S Yes yes OH WV OH
Regina Dau F W 7 S OH WV OH
Josephine Dau F W 5 S OH WV OH
Thomas Son M W 1 S OH WV OH

1930 Athens county census York township Buchtel, Ohio household 138-150 Page 125
Thomas Davis head male white 55 married at age 32, renting house for $6 a month WV WV Pa Coal miner
Sophia Davis wife female white age 34 marred at age 22 OH OH OH
Regina 17
Josephine age 14
Thomas age 11
Audrey age 8

Athens County Death Certificate of Thomas Joseph Davis 5-6-1961

Thomas Joseph Davis died 5-6-1961 in Buchtel in Athens County at his usual residence He was male White, widowed, born 10-12-1874. Age 86 at last birthday. He was a coal miner in the coal mining industry. He was born in West Virginia. His father was Lewis Davis and his mother was Jane Collins. Cause of death was arteriosclerotic heart disease, decompensation. I attended the deceased from 4-22-1959 to 5-6-1961. JL Webb MD Burial on 5-9-1961 at Greenlawn Cemetery in Nelsonville, Ohio, Warren Funeral Home.

Birth Record, Perry county, Volume 2 March 18, 1884
Sophia Spurgeon daughter of John Thomas Spurgeon and Josie Marson (Morrison)

Death Certificate of Sophia Iona Davis 10-20-1952
Sophia Iona Davis died in Athens County, Ohio, in Buchtel, which was her usual residence. She died 10-20-1952. She was white, married and her date of Birth was March 18, 1884. Her age at last birthday was 68. Her occupation was Housekeeper, she was born in New Straitsville, Ohio. Her father was Thomas Spurgeon and her mother was Josephine Morrison. The informant was Thomas J. Davis. She died of Acute left ventricular failure, due to Coronary arteriosclerosis and hypertension for 2 years. No autopsy. Death occurred at 11:30 pm 10-20-1952. J.L. Webb, MD Nelsonville, Ohio. Burial was in Greenlawn Cemetery Nelsonville, Ohio 10-23-1952. CL Stout Funeral Home.
HTML by webmaster
ALL RIGHTS RESERVED
1996-2004